Small Claims Filing Procedure in Eva
If you need to file a small claim, you can do so quickly and easily online through a simple procedure that the Small Claim Filing Company offers. Our small claims filing procedure is the fastest way to file your small claim and get the process started. Rather than spending your own time and energy on a small claim, let us take care of it for you.
Our Small Claims filing procedure is easily accessible. The advantages of filing with Small Claims Filing can benefit you in the following ways;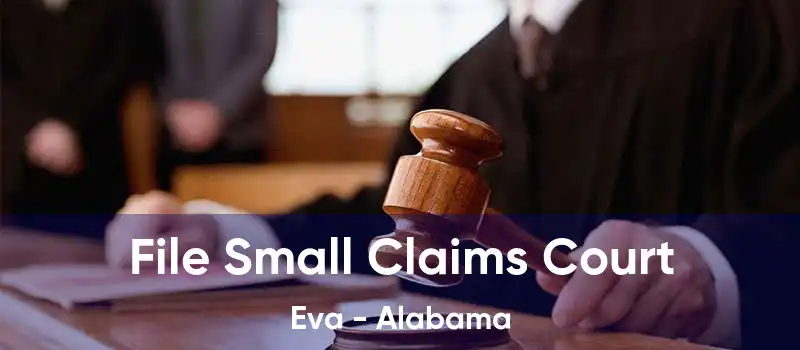 Demand Letter Filing Procedure in Eva
Small Claims Filing innovative platform that allows you to file demand letters quickly and efficiently all from the comfort of your own home. No more lengthy paperwork, our procedure guides you through every step, ensuring that you're well-prepared to start your case.
The first step before filing a small claim is to send a demand letter to the business or person you are suing. If the person does not respond to the demand letter within a specified time period usually within 15 days then you can go for filing a small claim case against him/her.
Small Claims Filing provides services for drafting the demand letter Nationwide in the amount of $59. It doesn't matter if you file the case for drafting the letter in California or any other state. Soon after receiving the letter, we forward it to the concerned states' department and they draft it accordingly.
Our experts will draft the demand letter by using the information you will provide in the reason for suing section while filing a case. After drafting we will send it to you via email for approval so that you may review it and let us know about the changes or additional information you wanted to add in the letter. We will respond within the time span of 24 hours regarding all your demand letter queries.
After your approval of the demand letter, we will send it via certified mail and provide you with a tracking number through which you can check the delivery status of your demand letter. Once your demand letter is delivered we will provide you with the defendant's signed certified return receipt as proof of service.
Small Claim Filing Procedure in Eva
At Small Claims Filing, we pride ourselves on offering a streamlined and user-friendly procedure that empowers you to easily seek justice. Whether you're dealing with unpaid debts, property disputes, or other minor matters, our platform provides the support and resources to navigate the procedure successfully. With Small Claims Filing, you can take control of your affairs, saving time and money while securing the outcome you deserve.
Our services include filing your small claim in the relevant court and providing proof of completion once the task is done. With our defined procedure and policy, individuals and companies can trust that their small claims will be handled with care and expertise
If you decide to file a small claims case, Small Claims filing offers a simplified filing procedure;
Determine the appropriate court
Determining the appropriate court is the first step in filing a small claim case. Small claims cases are filed in the district court of the county where the defendant resides or where the cause of action arose. Small Claims filing will find the district court for your county.
Prepare Your Small Claim
We will prepare your case and guide you on how important it is to gather all the necessary evidence and documentation to support your claim before filing your case. This may include contracts, receipts, invoices, and other relevant documents. You should also prepare a written statement explaining the details of your claim and the amount you are seeking.
Complete The Necessary Forms
Once you provide us with all the necessary information, Small Claims filing will complete the necessary forms to file your case within 5 days. You will need to file a Small Claims Complaint form, which we will also guide you. All you will need to provide us is information about the parties involved, the amount of your claim, and the basis for your claim.
File Your Case in Small Claim Court in Eva
After completion of the necessary small claim forms, Small Claims filing will file your case with the appropriate district court. You will need to pay us a filing fee at the time of filing, which is $149.95. The court fee is separate. Once your case is filed, the court will issue a summons to the defendant, informing them of the lawsuit and the date and time of the hearing. We will serve your court documents to the defendant either via sheriff or certified mail service and provide you with proof of service or nonservice.
Small Claims filing makes it easy for you to seek justice. Our online procedure is simple and designed to help you. You can file your small claims with us quickly and without any trouble as our process guides you step by step so you are ready to handle your case.